Some of our custom work for friends and clients. For more information contact [email protected]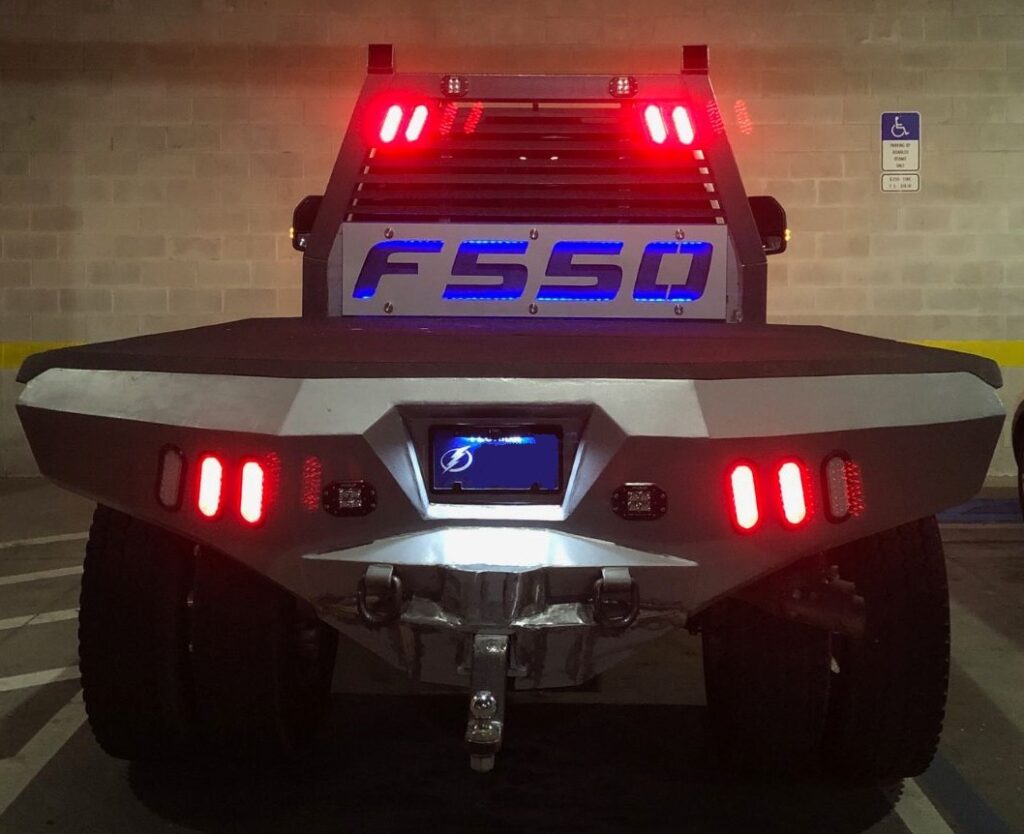 F-550
Our friend Eric White purchased all the metal for the bed of his new F-550 from TSS, and afterwards he wanted to create a cool logo for the back. He gave us a hand drawn rendering that we used to draw and create a CAD file, which we sent to our Messer HD Plasma Cutter. A few minutes later, we had the finished part! After installation, he sent us pictures of the final product; awesome workmanship on his part. We're excited to have helped turn his dream into a reality!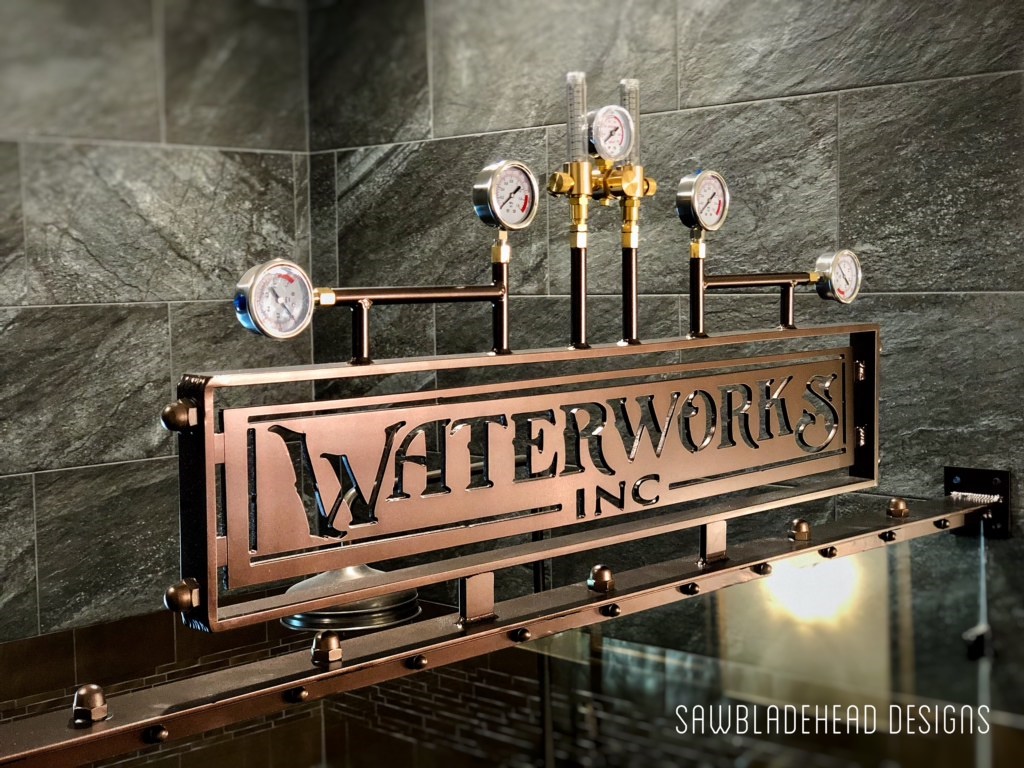 Waterworks Inc
Our good friend Shawn Lowery, AKA Mr. Sawbladehead, needed a custom-cut piece of aluminum for the focal point of a custom steampunk shower he was building for a client. He came to TSS with a rendering to finalize his vision. We created the file for our HD Messer CNC Plasma Cutter, and a short while later he had exactly what he needed to create his work of art. Our machine cuts aluminum using patented VWI® (Vented Water Injection) tech, spraying a cone of cooling water around the plasma arc so the soft aluminum doesn't warp, burn, or distort while being cut. Shawn then started his build, and as you can see it came out fantastic! Shawn is an incredible artist; his craftsmanship is second to none, and all of us at TSS were excited to be part of the project.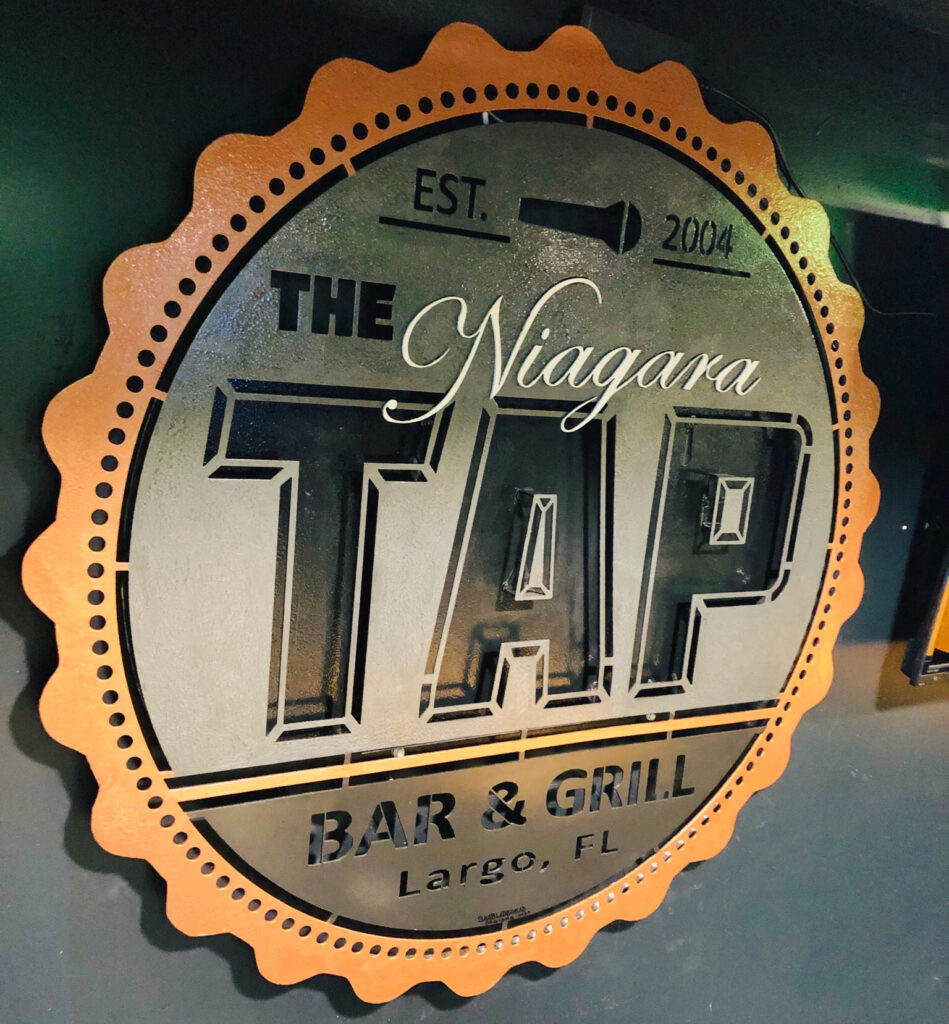 The Niagara Tap Bar and Grill
Another incredible project by our good friend Mr. Sawbladehead!
This project was originally scheduled for midsummer, but the owner of Niagara Tap Bar & Grill decided to use his COVID downtime to do some remodeling, which included this amazing sign. It started out with an initial design from Shawn Lowery, a visionary who can see the finished product before he even starts. After we cut the steel, Shawn took the parts to his workshop to design, assemble, and experiment with various colors and textures to achieve the perfect look. He nailed it! What already looked cool in plain steel turned into a phenomenal work of art that will definitely turn heads at The Niagara Tap Bar & Grill. We look forward to working with Shawn on his next vision.!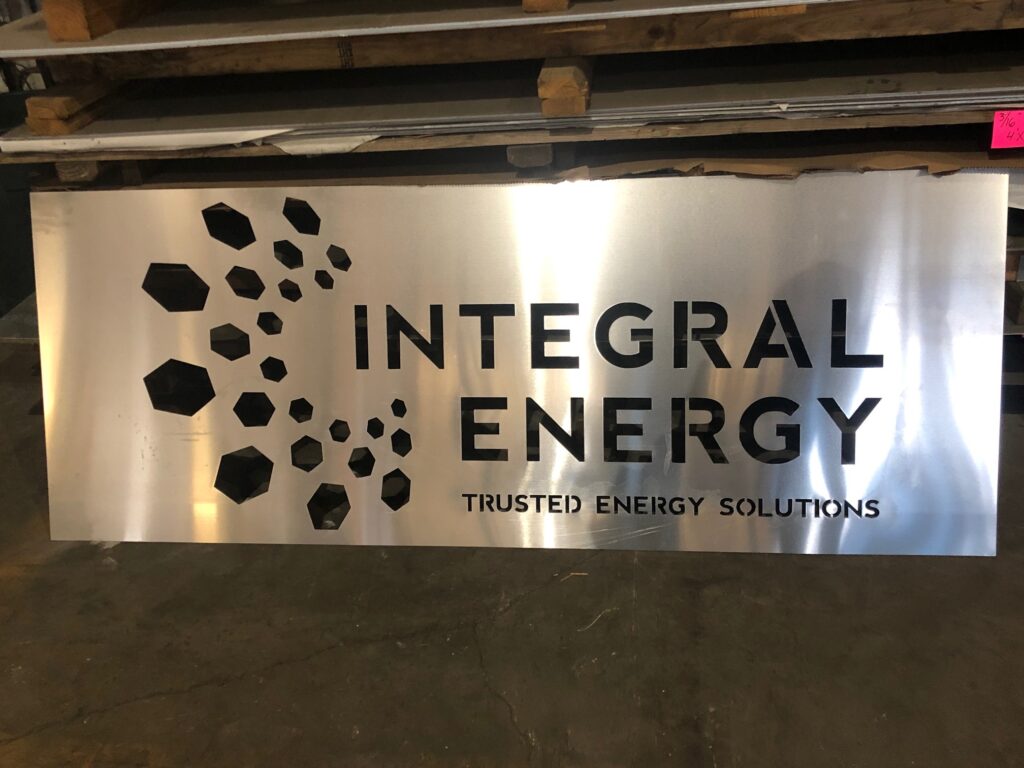 Integral Energy
Our friends at Integral Energy asked us if we could create a sign for them from their logo in 14-gauge aluminum. We took their full-color logo image, created a drawing using our image converter program, and upon their approval of that drawing we cut the sign. They installed it on their office wall, and it looks great!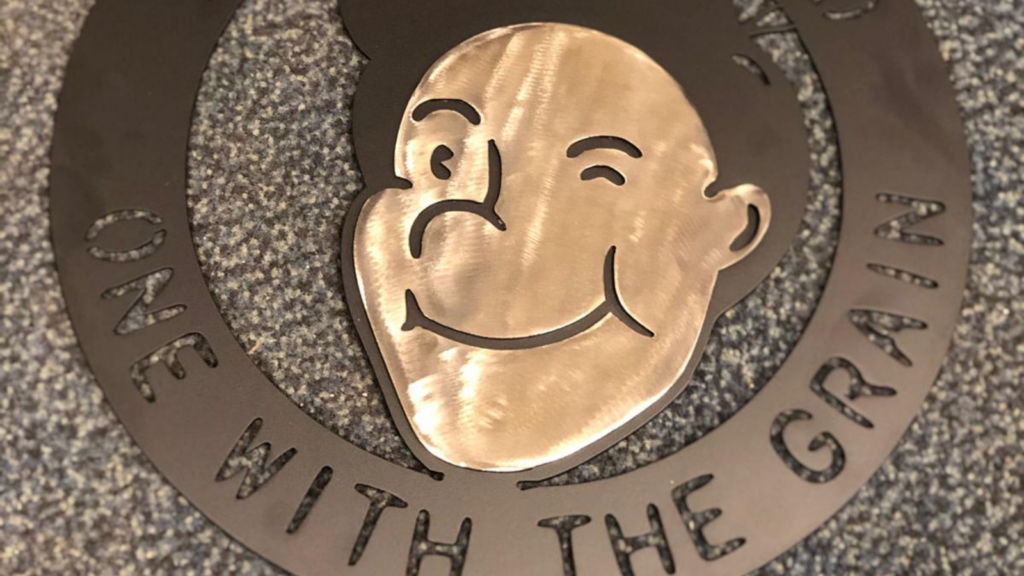 Big Sin Wood
Whenever we're tasked in creating a gift for someone, we want to make sure it's special. And the sign we created for Big Sin Wood was as special as could be. Using the logo of the business as the focal point, we wanted to do something out of the ordinary. And, that started with the face of the logo. We had our CNC Operator cut out the face separate from the sign itself, so we were able to weld it on top to add a three-dimensional look. That's not all he did. Using an angle grinder, he was able to polish the face to make it stand out from the rest of the steel. Once that part of the project was done, we had the sign powder coated black and the face powder coated with a clear coat. This sign is sure to stand out wherever you put it!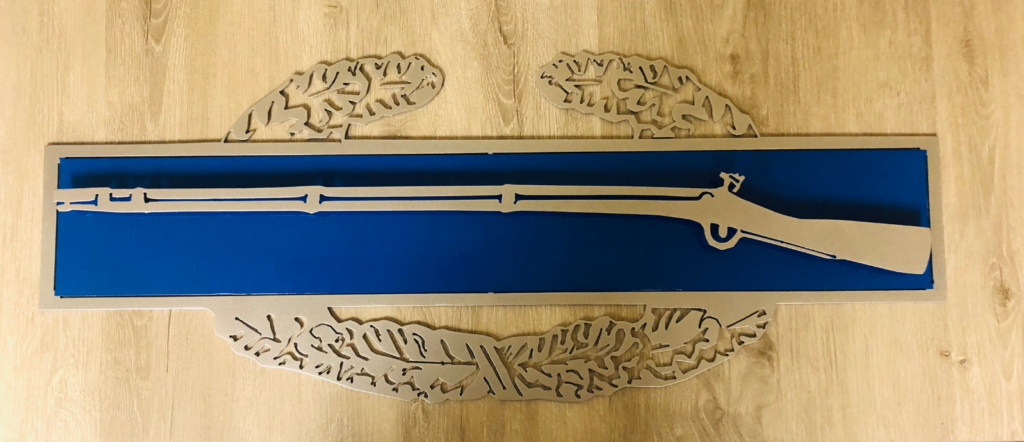 Combat Infantryman Badge
As a veteran-owned company, we love taking on projects to celebrate our veterans. For this project, in particular, we were given the task of recreating the CIB (Combat Infantryman Badge) for VFW Post 4321 and combat veteran Matthew Hall. From inception, we wanted to make this piece special. From the detail in the cuts to welding it to making it three-dimensional, to ultimately getting it powder coated in its gorgeous blue and silver, we made sure this was something that belongs in a VWF hall. We couldn't be happier that Matthew trusted us to deliver this unique piece of art and couldn't be prouder of the results!